Creating Fuller, Healthier Tulsa Lawns
At Super Scapes, our Tulsa landscaping experts take what exists already and make it better by employing superior lawn care services. Overseeding is an option that we use to take the look and feel of your existing landscape to the next level. Learn more about our overseeing services below.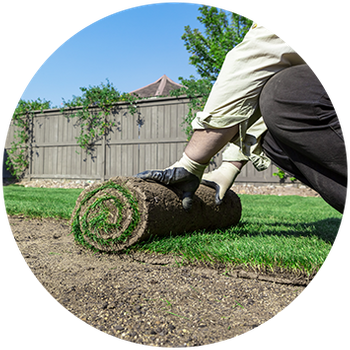 Why Trust Your Lawn to SuperScapes?
Customized Landscapes at a Price You Can Afford

We Offer 30+ Years of Experience

Full Range of Lawn Care Services

Year-Round Lawn Services

Great Reviews and Testimonials — Your Local Recommended Landscaping Company
Improve Your Lawn with Our Overseeding Services
Are you wanting to improve the look and feel of your lawn? Overseeding is a simple solution that can be implemented on your existing lawn to create a fuller, more lush look. Our professional landscaping team at SuperScapes is here to complete the overseeding process. When we're done, you can expect a lawn that has improved density and enhanced color. Since 2013, SuperScapes has been assisting the residents of Tulsa, and the surrounding areas, with all of their lawn care needs. We can't wait to grow your lawn and make you our next repeat customer.

What is overseeding?
Overseeding is the process of planting grass seed directly into existing turf. This is done without tearing up the turf or the soil. It's an easy way to fill in bare spots, improve the density of turf, establish improved grass varieties, and enhance your lawn's color. If your lawn looks old, or just "worn out," or if it has been requiring increasing amounts of water and fertilizer to thrive, or is disease- or insect-prone, it's a perfect candidate for overseeding.

Benefits of over-seeding:
Overseeding can help your lawn better withstand insects, disease, drought, shady conditions, and heavy traffic. The investment of overseeding pays off by reducing the amount of fertilizer, water, and pesticides required to encourage growth. Most importantly, a renovated lawn stays greener and looks thicker and healthier ALL year long!

When do you overseed?
There is an ideal time to overseed your lawn to achieve optimal results. In order to have a successful seeding outcome, there is a window to get the seed down, germinated, and get a root system established before the cold weather hits. We typically start our overseeding program the first week in September or whenever the highest summer temperatures break.
Before You Overseed
Before you jump to overseeding as the solution to your bare lawn woes, it is worth it to investigate other causes of poor grass growth or thinning areas. If other common lawn problems are not addressed and overseeding is the first treatment, it may not help at all. The landscape experts at SuperScapes conduct lawn assessments and will correct other landscaping problems to slow deterioration and promote healing and growth. Common lawn problems we can diagnose and treat include:

Poor soil conditions

Overwatering/ underwatering, or poor drainage

Poor air circulation

Poor sunlight

Excess thatch

Overgrowth of weeds

Incompatible grass breeds

High traffic areas

Landscape neglect

Poor mowing habits

Poor soil nutrition
If your lawn is suffering from any of these issues, our local Tulsa landscapers will make the necessary improvements and then overseed. Regardless of the current state of your lawn, we can help! Contact us for your estimate today.